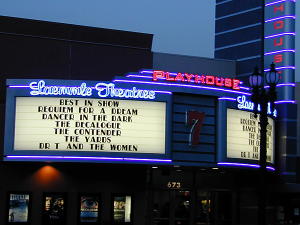 Playhouse 7
673 East Colorado Blvd.
Pasadena, CA 91101
310-478-3836
Set as myTheatre
Get Tickets
Click a
BLUE SHOWTIME
to purchase tickets

130 min. R

114 min. PG-13

149 min. R

40 min.

93 min. PG

95 min. PG-13
Here at Laemmle Theatres we take a lot of pride and pleasure in showing many feature documentaries, but it's extra sweet every February when we can feature the focussed, concise brilliance of the Oscar-nominated short documentaries. We open the program of five films on Friday, January 30 at the Music Hall and February 7 and the Playhouse 7 and Claremont 5. The nominees are: JOANNA (Aneta Kopacz) – 40 minutes/Poland/Polish. With great visual poetry, JOANNA portrays the simple and meaningful moments in the life of her family. Diagnosed with an untreatable illness, Joanna promises her son that she will do her best to live for as long as possi
[...]
Since its 1982 release THE LAST UNICORN has enchanted audiences everywhere with its moving story about a unicorn trying to find and rescue her lost people, and the price she pays for bringing magic back into the world. Considered one of the great fantasies of the last century, the original novel has sold over six million copies in 25 languages, while the film adaptation has sold more than four million home video copies in America in just the last nine years. THE LAST UNICORN novelist/screenwriter Peter Beagle will introduce all Laemmle screenings.
Internationally acclaimed Turkish filmmaker Nuri Bilge Ceylan has won prizes at major film festivals all over the world, but it wasn't until last May, after being nominated four times, that he finally took home what is probably the topmost prize of all, the Cannes Film Festival's Palme d'Or. It was for WINTER SLEEP, a "richly engrossing and ravishingly beautiful magnum opus" about Aydin, a former actor who runs a small hotel in central Anatolia with his young wife Nihal and his sister Necla, who is recovering from her recent divorce. "A Chekhovian meditation on a marriage that returns to the mood of the director's early films like Climates an
[...]
This year Germany submitted BELOVED SISTERS as their potential nominee for the Best Foreign Language Film Oscar, and one can see why. Scott Foundas of Variety, a smart, tough critic, called the movie "an enthralling, gorgeously mounted depiction of the complicated relationship between the post-Enlightenment writer and philosopher Friedrich Schiller and the sisters Charlotte von Lengefeld and Caroline von Beulwitz. Graf has created an unusually intelligent costume drama of bold personalities torn between the stirrings of the heart and the logic of the mind." We are very pleased to open the film tomorrow at the Royal, Playhouse and Town Center.
[...]
Next Wednesday, January 14 we'll be opening Stephen Belber's adaptation of his play MATCH, starring Patrick Stewart, Carla Gugino and Matthew Lillard, at the Playhouse 7 and Music Hall.  Stewart plays a Juilliard professor being interviewed by a woman and her husband (Gugino and Lillard) for her dissertation on the history of dance in 1960's New York. As the interview progresses, it becomes increasingly clear that there are ulterior motives to the couple's visit. The role of the professor is a plum (Frank Langella earned a Tony nomination with it in 2004) and Stewart makes the most of it. It's a great chance "to see a grand and gracefully agi
[...]