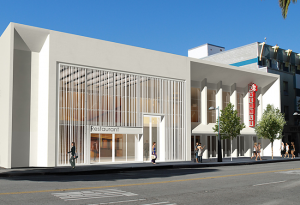 Monica 4
1332 2nd Street
Santa Monica, CA 90401
310-478-3836
Set as myTheatre
Monica Film Center Coming Soon!
After 44 years serving Santa Monica and West L.A., the venerable Monica 4-Plex is now closed for renovations! After a major overhaul, it will reopen as the MONICA FILM CENTER with six auditoriums, a restaurant and and lounge, and rooftop deck with an ocean view. The new and improved Monica is currently slated to re-open in early 2015. Check back on this page for updates along the way.
This coming Christmas Eve (Dec. 24) we will celebrate the 50th Anniversary of the Broadway production with our 7th Annual Fiddler On the Roof Sing-Along! Join us (at any of our venues) for our traditional, yet non-traditional Christmas Eve experience as we sing along with Tevye and the shtetl to iconic favorites like "Tradition", "If I Were a Rich Man", "Matchmaker", "To Life", "Sunrise Sunset" and many others. GET TICKETS to the event before it sells out! In addition to movie and song, the audience will be regaled with Fiddler history and trivia, with prizes being awarded to Fiddler buffs with the quickest recall. In this "a
[...]
A reminder that Laemmle's Culture Vulture Mondays starts this Monday! We pick the best from the world of ballet, opera, stage, and fine art to feature on the big screen every Monday* at 7:30PM at every Laemmle location! Can't make it Monday at 7:30PM? No problem! Catch discounted encore presentations Tuesdays at 1PM. Future presentations include LA TRAVIATA from the Opera National de Paris, the ballet LA BAYADERE from Russia's Mariinsky Theatre, and a guided tour through the works of MATISSE from London's Tate Modern museum. Visit our oft-updated Culture Vulture page for the latest information on upcoming selections. Laemmle's Cultur
[...]
Laemmle has several pairs of tickets to give away to the astounding FOREVER FLAMENCO -- a special one-night only celebration of music, song, and dance at the Ford Amphitheatre in Hollywood. The event takes place Saturday, August 9 at 8:30pm. ENTER-TO-WIN here! The dancers, musicians and singers of FOREVER FLAMENCO have been delighting Fountain Theatre audiences for over two decades with the intensity, precision and exhilaration for which flamenco is known. Now Forever Flamenco returns to the outdoor stage at the FORD THEATRES with this passionate expression of Spanish culture. A roster of internationally renowned flamenco artists wi
[...]
Acclaimed director of the Roger Ebert doc "Life Itself" STEVE JAMES (Hoop Dreams) sits down for a conversation with Odie Henderson of RogerEbert.com. Excerpted in full: In 1994, Roger Ebert wrote about Steve James' "Hoop Dreams"—"A film like "Hoop Dreams" is what the movies are for. It takes us, shakes us, and make us think in new ways about the world around us. It gives us the impression of having touched life itself." He had no idea that, 20 years later, the director of that film would be the filmmaker behind the movie based on Roger's memoir, titled with the same phrase that Roger used to describe "Hoop Dreams"—"Life Itsel
[...]
Big news in Laemmle Land! On Monday we are shutting down our Santa Monica theater for major renovation.  While the renovated theatre will contain some elements of the old building, this weekend is the last chance for Monica 4-Plex fans to see the voluminous lobby in its full glory. We hope to re-open the theater by the end of this year as the MONICA FILM CENTRE with a restaurant and lounge, a rooftop deck (ocean view!) and six auditoriums devoted to indie and foreign films rather than four.  That huge lobby space has to go somewhere!